Female Bodybuilding is a quite complex sport when compared to men. Women need to work hard and also requires lots of dedication to reach their goals. The key to success in female bodybuilding depends on upon good nutrition and training. The following female bodybuilding diet tips may help you to improve the efficiency of your results.
Female Bodybuilding Tips for You:
Low carbohydrate diets won't work for bodybuilders. When you take a high amount of carbohydrates, it provides a continuous supply of glycogen to your muscle and supports you through the continuous supplement of energy.
It is recommended to start your day with high carbohydrate and lean protein in breakfast. You can also consume a carbohydrate diet before and immediately after completing your training or two to three hours following your training session.
Understand What to Eat, When to Eat:
Female bodybuilding is a sensible sport which requires proper understanding about dieting and training. Your diet plan must contain 6 servings a day for a continuous supply of energy and keep your body in the metabolic state. When you starve or have longer periods between meals, your body starts catabolic function, in which you will lose lean muscle and gain fat.
A balanced diet which contains the desired ratio of macronutrients like, 40% of carbohydrates, 40% of proteins and 20% of fat always give you desired results. Every macronutrient is very important for your body's biochemical reactions to build muscles.
Female bodybuilding trainers need to have a basic understanding of nutrition. When you consume more amount of carbohydrates especially simple carbohydrates, it will quickly release the hormone Insulin into your blood and makes the body as a fat storage machine. So, it is very important to have a proper understanding of what to eat, when to eat and in which ratio to eat.
Build Muscles on Nutritional Facts: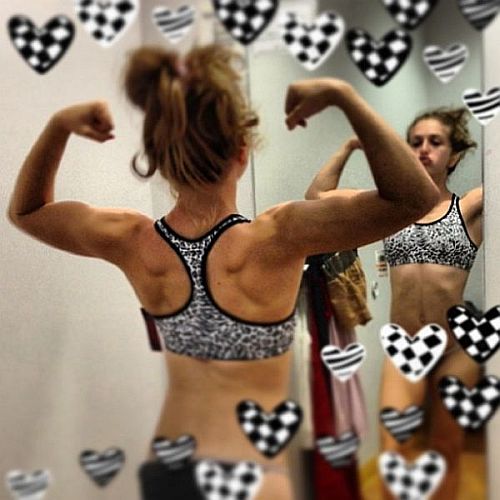 Proteins are building blocks of muscles. You need to take protein in required quantities to build muscles and to burn fat. Food like eggs, lean red meat, turkey chicken which is skinless and boneless, beans helps you to make your meals rich in protein content.
Fats are very important for regulating hormonal function and moreover, they aid in lubricating your joints. It is to strictly adhere that about 20 % of your recommended calories should come from fat. Most female bodybuilding diets does not describe the importance of water. Water is a key element in purifying your system from toxic compounds.
Female bodybuilding needs much attention to diet plans and muscle training workouts. Stretching a muscle too much in cardio exercises makes your body release a compound called cortisol. This stress hormone makes your body retain more water which interferes with your weight management.
Now over to you …
The whole article helps you to understand the nutrition and diet facts in female bodybuilding. If you are seriously looking to enter the sport; it is advisable to get proper guidance from a qualified trainer. Here's the best resource to know more in detail about Female Bodybuilding Diet Tips.