Missed or late period, what happens right away?
"Missed or late period, Am I really pregnant?" – This is the most frequent query asked in women's health forums and discussion boards. Frankly speaking, every woman has different signs and symptoms in her pregnancy. Whatever may be the sign; a missed or late period is always considered to be related to pregnancy.
Apart from missed or late periods, there are many other pregnancy symptoms that you should take care of. It is not necessary that women should develop all the symptoms at a time. You could experience them over a period of time. It is for you to note down the following early signs that you might be pregnant.
First Signs of Pregnancy Before Missed or Late Period:
1. Spotting:
Due to hormonal changes in the body, you could experience spotting. Medically, it is termed as implantation bleeding. Usually, the spotting occurs anywhere in the first 6 to 14 days after fertilisation.
Unfortunately, one can mistake these few days of light bleeding for an actual period. Just remember that early pregnancy spotting is lighter in color and doesn't last for a longer period to fill a pad or tampon.
2. Nausea & Fatigue:
Some pregnant women feel nausea and suffer from vomiting. This is a very common pregnancy symptom that you should consider. Though it is called morning sickness, it may occur at any time of the day. It's unclear what contributes to morning sickness but the hCG hormones might play an important role.
Nausea and morning sickness usually develops around the fourth to sixth week. Although it's called morning sickness, it can occur any time during the day or night. It's unclear exactly what causes nausea and morning sickness, but human chorionic gonadotropin (hCG) hormone (popularly known as the pregnancy hormone) may play a role.
In certain cases, getting tired otherwise known as fatigue is also observed. In the first trimester, progesterone hormone levels increase rapidly making you feel utterly exhausted.
The other factors that contribute are lower blood sugar levels, lower blood pressure, and increased blood production. These team up making you feel very tired during pregnancy. Thus, it is always advisable to get enough sleep.
3. Body Pains:
A backache is the most common experience in pregnant women. Apart from chronic back pain, you can observe mild headaches and mental strain too. This is mainly due to increased blood circulation, and stress in the pregnancy period.
Some pregnant women experience abdominal cramping resembling menstrual cramps. Though slight in intensity, it can extend to a mild or chronic backache.
4. Nipple & Breast Changes:
This is the only sign you may observe within a short duration of conception. Due to the hormonal changes, you may develop sore, tender and swollen breasts. Or your breasts may even feel fuller and heavier. Unless your body is adjusted to the new levels of hormones, breast pain will not ease.
Pregnant women might notice many changes around the nipple such as darkening of skin and protrude for breastfeeding. Your areolas (the area around the nipples) might get bigger and darker.
5. Changes in Food Passion:
Some women develop food passion whereas others get an aversion to certain foods. The smell sensitivity and food aversions may trigger nausea and vomiting. This is not scientifically proved but the special food craving is related to the hormonal fluctuations.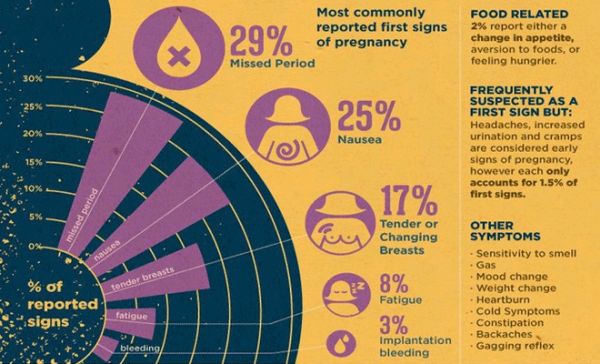 Missed or Late Periods Happen for Many Reasons:
Though there are other pregnancy signs and symptoms, the above experiences are treated as the most common one. The pregnancy hormonal fluctuations can cause other symptoms that include mood swings, dizziness, frequent urination, bloating, constipation, excess saliva, heartburn, temperature sensitivity, noticeable weight gain, pregnancy glow, etc.
Coming to the missed or late period's concept, it is accounted for many reasons such as hormonal changes, sudden weight loss or being overweight, stress, illness, usage of birth control pills, changes in schedules, medication, reaching the menopause, polycystic ovary syndrome (PCOS), miscalculations and finally pregnancy.
Do remember that pregnancy is not a disease. In fact, it is a blessing. For more information, visit the exclusive resource Pregnancy Miracle – the complete resource on how to cure infertility and get pregnant naturally.
Pregnancy Miracle Review
If you are women then you will know how problematic the condition of infertility is. In today's busy world, women find it difficult to get pregnant. This might even lead to relationship problems such as divorce.
The present-day women think that there is a faster solution to beat infertility. So they try all sorts of drugs, therapies and controversial methods. Leave the remedial part, these approaches create a big problem of miscarriages too.
Earlier the problem of infertility was attached to genetics. Now it is linked to stress and strain. Whatever may be the problem of infertility and miscarriages, they should be addressed with a natural solution. Recently, I've found a program by name Pregnancy Miracle that helps you to get pregnant naturally.
Beat Infertility & Get Pregnant Naturally:
It doesn't matter even if you are over 40 years of age, just follow the recommendations and get benefited. Pregnancy Miracle is an incredible program that reveals all the secrets to beat infertility and stops miscarriages.
Don't be of the impression that the author stresses expensive and painful procedures to get instant results. In reality, Lisa Olson, the author of Pregnancy Miracle, trains you to cure infertility in a holistic way.
Lisa Olson is a renowned Chinese medicine researcher, alternative nutrition specialist, health consultant, and former infertility sufferer. No more trial and error approach in beating infertility. Just stick to Lisa Olson's Pregnancy Miracle and get pregnant naturally within 2 months.